CRISP LIQUID EDGE
This multi-use professional  product for barbers and cosmotologists, will make your desired hairlines , beards , goatees , and eyebrows pleasingly crisp and sharp. This product can be used as a liquid razor or a clipper enhancement. You can apply liquid on your desired area to cut by spritzing it on. Or spritizing it in your palm and applying to area. Wait for 3-5 seconds and make your shape; using a razor or clipper of choice. WITH ONE 8oz. BOTTLE YOU CAN ACHIEVE 300 CUTS! "SAVE MONEY AND CUT YOUR CUT TIME IN HALF WITH CRISP LIQUID EDGE". The value in this bottle is enormous!!
shop liquid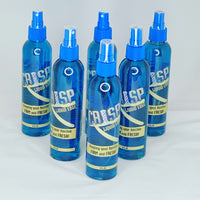 CRISP APPARREL COLLECTION
"THE BARBER CULTURE SOCKS!!! Crisproducts is proud to release our first accessory to our  2021 apparel collection. Step out in style and represent the culture of barbering and art. This is a classic crew sock. That  comes to the mid point of your lower leg. Giving you great comfort and cushion with its high quality cotton blend. "
shop all
EXCLUSIVE CRISP COLLECTION
CRISPRODUCTS CREATION
 Crisproducts was established in 2017, by Founder MARCUS A. BOLDEN Master Barber and Barber Instructor. Our goal is to meet all the needs of Professional Barbers and Cosmologists. Crisproducts will provide you with excellent hair and skin products, along with high quality premium grooming essentials. That you can use on a daily basis
Testimonials
We cant keep your product on our shelf. Its one of our best selling products. 

@sharpshoplife
Crisproducts is one of the finest products on the market. Visit there website and order yours today! .

@kentucky_barbers_society
 .We need to order more bottles. 24 2oz. and 24 8oz.  

@gstyesbarbersupply
New Mexico Superstar Barber @alanranks_ keeps his clients #crisp with #crispliquidedge 

@alanranks
Shoot for the stars with this great product. ******.

@omg_thebarber
CRISPRODUCTS
Our Goal is to provide barbers, cosmotologist,and you everyday individuals that love to groom yourself. With the best professional products and accessories. Using premium high quality ingredients and materials. That you can use everyday. 
Custom content
PREMIUM GROOMING ACCESSORIES
Crisproducts specialzes in premium grooming accerssories. Razors holders , brushes , and combs.